2-1-1
Get Connected, Get Answers With 2-1-1
Finding help can sometimes be confusing and intimidating. That's why United Way of Baldwin County offers 2-1-1, an easy to remember phone number connecting individuals with resources in our area.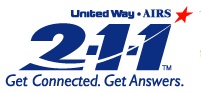 With one free, confidential phone call, 2-1-1 callers can find information about a broad range of crisis and essential services including, rent, food and utility assistance, affordable housing, healthcare, child care, after-school programs, elderly care, financial literacy, job training programs, counseling and more. 2-1-1 can also answer basic requests such as, where to donate clothing or find a flu shot.
Our local United Way call center is staffed by trained specialists who quickly assess the callers' needs and refer indviduals for assistance. The call specialist will ask for a zip code to help locate the services nearest to the person in need. All calls are confidential.
Not just for crisis management and prevention, 2-1-1 can also connect callers with agencies and programs looking for volunteers.
Whether you're in need of help or want to help others, 2-1-1 is an easy way to get connected and get answers. To find a list of services in our area, visit either 2-1-1 Southwest Alabama or www.211connectsalabama.org . You may also call 2-1-1 at any time 24 hours a day, seven days a week.